Prius Hybrid Battery Fan Cleaning Service
Many Toyota Prius owners are not aware of the hybrid battery fan service issue because the manufacturer has not listed this a serviceable item. Basically heat is the enemy of the hybrid battery, and in addition to interior vehicle temperatures, the battery creates heat as it is charged and discharged. To combat this the hybrid vehicle battery has its own air cooling system that is tucked away within the body panels. The air inlet on the second generation Prius is located near the right rear window on the body panel, problem is it does not have a filter for the battery cooling fan, and this is a problem, because the fan itself becomes the filter. See figure A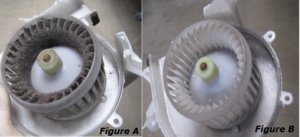 The fan is located upstream of the battery via plastic duct work and over time the fan collects particulates until the fan eventually clogs. As fan efficiency diminishes, this causes battery overheating and/or premature failure.This is especially common in harsh dusty areas like Phoenix, Arizona or when there are lots of backseat passengers where the fan intake is.
Without proper maintenance the hybrid battery will surely die prematurely.
Occasionally, but not always, when the fan clogs it will set a battery overheating code P0A82, with temperatures reaching 150 degrees or more. Since the hybrid battery fan is one of a few serviceable items item that can affect pack life, AZ Hybrid Repair Phoenix (aka ToyoMotors) recommends hybrid battery fan and duct cleaning service every two years or 30,000 miles when in extreme climates. See Figure B. After the first service, (gen 2) the fan service can be pushed to every 60,000 miles or every 4 years.
Our hybrid battery fan service includes:
• Remove all panels necessary to access HV battery fan. Clean battery cage and housing.
• Clean hybrid battery fan duct work.
• Install add-on filter for the Gen. 2 Prius.
Cost is $119.90
(Takes about an hour and 15 minutes)
Call Today at 602-971-8137 to make you appointment for a hybrid battery fan service.